Lately, I have been attracted to and found my self collecting an odd sort of sundry things.
vintage children's books and poetry books...this one I have from 1943. The pictures are so cute. Olivia chose it off my shelf and asked me to read it to her tonight. Tucked in my bed under the comforter, with my teddy...we read about the Bellamy family and the Mother's desire for a mantle clock and their son Timothy's sadness over his cow Muley, that momma traded for the clock! So simple and cute. Such a reminder of life without consumerism...
I have collected quite a few vintage books lately, several Beatrix Potter books, Nursery Rhymes and poems, a couple versions of Three Little Kittens... and poetry of Robert Frost, Elizabeth Barrett Browning, and a few others. I just love these older books. The yellowed tan pages, the simple drawings, the simple stories.
I have also been collecting linens and fabrics...especially linens with older hand embroidery. I have a dresser in my sewing room...one drawer with old linens and fabric, and one that is all about Christmas...little odds and ends of fabric, napkins, ribbons to tuck away until Christmas project time.
I also found an old Kewpie doll, ceramic cat and duckling.
Such an odd little collection. Nick asked me one day, why I liked to collect old things. I said I guess because I am an old thing...:)
But really, I think it is because they are rare, usually well worn with care and love....I wonder about who use to have it, hold it, sew it, read it. It feels to me like something of worth and thought, vs the overstocked shelves of most stores you walk in. I am not sure.
Maybe I want to make time stand still, or move backwards. As I listened to Nick playing the piano in the room next to mine, my heart ached with joy and bittersweet. Five more years. I probably only have five more years of being able to lie in my bed in the early evening and hear my oldest play the piano in the room next door. And I almost can't stand it.
I even thought, tonight, what will I do then? When he is gone? What a hole that will leave in our family. Then Taddy, and Ollie and then, lastly Mary.
Then I guess I will have time to pull out all my fabrics and collections and sew things and give them away. lol.
oh little melancholy me
Japan has made me so sad the last few days. last night, I lay in bed after the house full was asleep and sobbed. prayed for I don't know what, and sobbed. why? why? and the words of the song Nick wrote kept aching through my heart....
There are so many lost that need to be found
So many lives that need turned around
They need a Savior, They need a King
Cause they may not look tired,
they may not look worn
but really their hearts are all tattered and torn
They need a Savior They need a King,
and I cried.
the mystery of God, why he allows such to happen. I do not know the answer. But He does.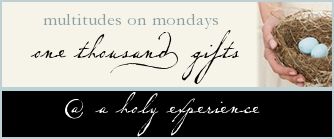 eucharisteo preceeds the miracle:
-children's books read by eyes now all grown up
-teddy's and comforters and my snuggled girl
-playing worship on the keys
-the sound of story book words spoken from momma to child
-a heart aching for Japan
-prayers and a God who hears
- Isaiah 14:24
-3 pencils gripped during spelling practice
-one willing to help
-trusting in the one who holds all our cells together, his time, his way, his world
-music refrains that continue to echo
-
Ann's words
-that there is always something to find to give thanks for.